Selling Wholesale: What It Means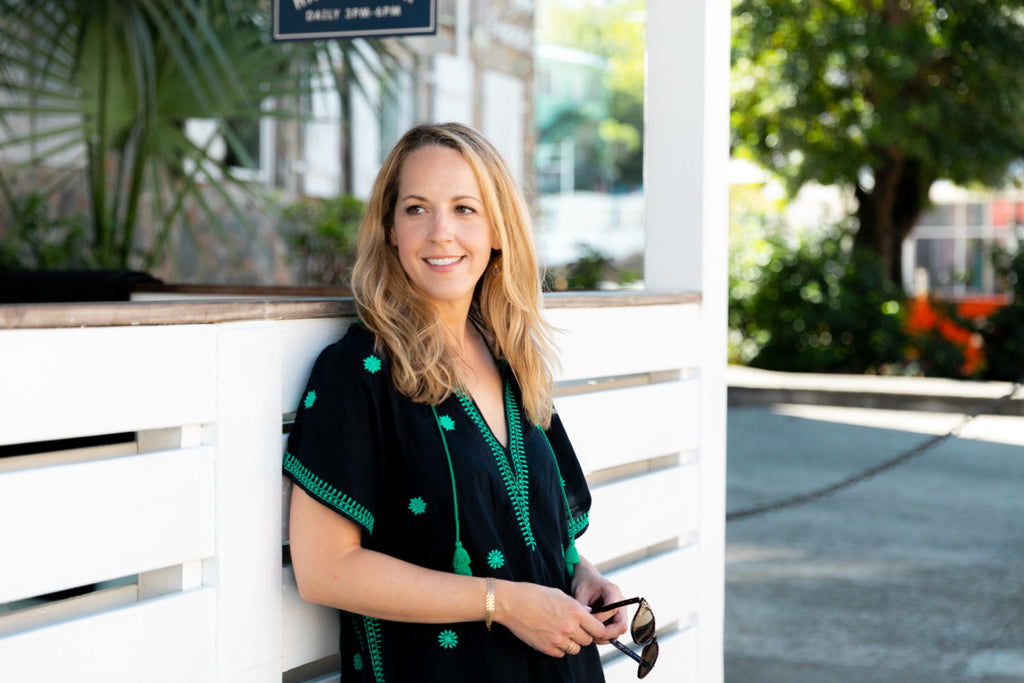 Welcome to another edition of my Weekly Journal! I use this space to share a bit about jewelry, and a lot about my journey from lawyer to jewelry business owner. In this week's journal entry I'm talking about selling wholesale. If you'd like to start a business selling a product someday, wholesale sales will be something you'll need to consider. What is wholesale? It's when you sell your product to stores instead of directly to customers, and then those stores sell your product to their customers.
When you plan to start a business selling products (instead of services), one way to get your product into the hands of customers is to sell directly to them. You can do this by setting up a storefront in your town, setting up a website and driving customers to your site through advertisements on social media, or participating in local fairs and shows where you can rent a table and sell your products to the attendees.
Another way to get your product into the hands of customers is to sell to stores that already have a customer base. These stores then sell your product to their customers. If you do this, both you and the store need to get a cut of the profit. Therefore, wholesale is less profitable than direct sales. And you'll, therefore, need to be in a lot of stores in order to realize the same profit that you might ordinarily realize through selling directly to customers.
When you sell to a store, they'll usually buy your product outright and then display it on their shelves. The store is going to expect a significant discount so that there's room for them to make a profit. The price they pay is usually called the "wholesale price." The standard discount varies from industry to industry but in fashion and accessories, stores usually want a 50% discount. Yep, that's right, it's very high. Let's look at an example:
A company based in Maryland called Sweet Fashion sells sweaters for $50. Sweet Fashion wants to have their sweaters in shops around the U.S. so they attend a trade show (which is a fair or event connecting sellers, like Sweet Fashion, and stores that might want to carry Sweet Fashion's products). At the trade show, Sweet Fashion meets the owner of a shop in Vermont who wants to carry their sweaters. This Vermont store places an order with Sweet Fashion for 10 sweaters at the wholesale price of $25 each. This means that the store in Vermont will receive 10 sweaters from Sweet Fashion and sell them in their Vermont shop for $50, keeping a profit of $25. 
What about Sweet Fashion, what's their profit? Well, they must ensure that they've already built a profit into the $25 wholesale price they're giving to the Vermont shop. So here's what you've got:
The retail price: the price the customer will pay, here $50
The wholesale price: the price the Vermont shop will pay, here $25
Cost (sometimes you'll hear someone say they're selling "at cost"): what it costs Sweet Fashion to make the sweater, including no profit (let's assume here it costs them $15 to make the sweater)
So, selling wholesale means that Sweet Fashion will make $25 minus $15 or $10 on each sweater it sells to the Vermont shop. Do you see what a huge difference in margin you've got selling to stores versus selling to customers? When Sweet Fashion sells directly to customers on their website, they make $50 minus $15 or $35 per sweater. When Sweet Fashion sells its sweaters wholesale, they only make $10 per sweater.
So why would anyone sell wholesale? Well, the answer is getting less clear as the years go on. With the introduction of social media and, more importantly, social media advertising, it is not necessary anymore to sell wholesale in order to get exposure to people around the country. Think about it - 30 years ago, how would a customer in Vermont find out about Sweet Fashion's sweaters in Maryland? There was no social media. Sweet Fashion would have to get their sweaters into a shop in Vermont. That's no longer the case. Furthermore, in-person shopping is growing less and less popular over time so having products in shops is also becoming less and less profitable. Nonetheless, some people still decide to sell wholesale in order to grow their business and get their products in the hands of customers all over the country.
Another reason you might sell wholesale is volume. When you sell wholesale, the shops that buy from you usually have to meet some sort of minimum. For example, the shop in Vermont needed to buy at least 8 sweaters minimum from Sweet Fashion in order to get the 50% wholesale discount. They decided to buy 10 sweaters, so they met the minimum. When is volume important? It's most important when your product is low in price. For example, if you sell a specialty peanut butter for $8 and it costs you $2 to make it, even if you sell 25 jars of peanut butter in one day on your website, you're still only making $6 multiplied by 25 or $150. That's not a huge amount of money, but it takes a lot of work to find 25 different customers in one day, especially when you're a new business. Contrast this with someone who makes leather bags by hand and sells them for $300. Let's say it costs him $150 to make the leather bags, so his margin is $150 per bag. Unlike the peanut butter seller who needed to find 25 people to buy from him to make $150, the leather bag seller only needs to find 1 person to buy from him to make $150. It's a lot easier to find 1 customer than 25 each day. Therefore, wholesale is often very wise in situations where your product is low in price.
A caution on wholesale: you have to get your product into a LOT of stores to make a LOT of profit through wholesale sales. And, as you might imagine, it can take a lot of wooing to get stores to sell your products. It's a lot different than making a direct sale to a customer. The owners of these stores can often be high-maintenance and require a lot of your time. You also have to spend time making wholesale catalogs, line sheets, order forms, etc. Here's the other issue: just because a store orders from you once doesn't mean they'll order from you again, or even in any consistent manner. In other words, it's not very predictable and consistent so you need to have your products in a LOT of stores to ensure a steady flow of income from wholesale sales.
I'll end on a personal note - I experimented with wholesale sales in my own business for about 3 years before I decided it wasn't for me. I attended a big trade show in NYC (which cost way too much money and didn't pay off) back in 2017 and it opened my eyes to a lot of the things I shared with you above. To me, wholesale requires way more work and comes with way less reward. I didn't enjoy dealing with shop owners - frankly, I found some of them to be annoying, entitled, and even degrading in their communications with me. I enjoy dealing with actual customers - the women, brides, and bridesmaids who wear my jewelry - far more. Some of them have even turned into Instagram friends! Here's another thing - by not having my jewelry in a bunch of stores around the country, I'm keeping my jewelry "special." Does that make sense? You can't get it anywhere and everywhere. I never want to be like Kendra Scott for example, where my jewelry is sold in hundreds of stores around the world. I always want to keep it "small batch" sort of speak and I always want to keep it feeling unique, special, and handcrafted. Every business owner has to make the decision that's right for them, but for me, I have decided to keep my business a direct-to-consumer business.
P.S. - If you enjoy my weekly journal, I encourage you to check out my IGTV series on Instagram! Each week, I post a short video elaborating on my journal entry. You can find me on Instagram @graceandhudson.
xoxo,
Stacy
Stacy Mikulik