The Stages I Experienced After I Quit My Lawyer Job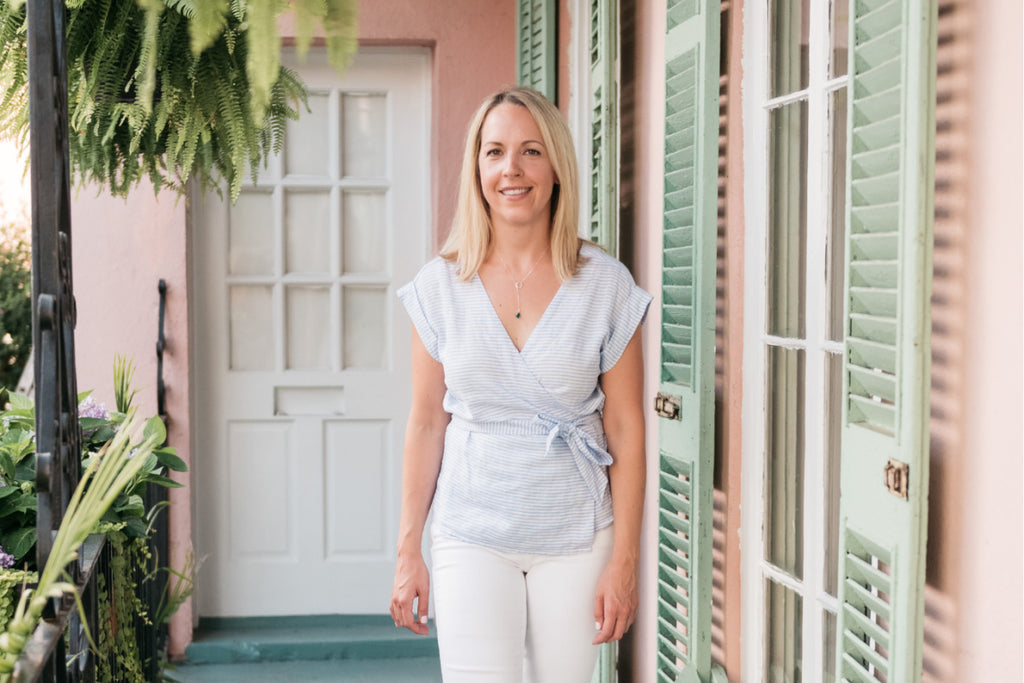 Welcome to another edition of my Weekly Journal! I use this space to share a bit about jewelry, and a lot about my journey from lawyer to jewelry business owner. In this week's journal entry, I'm walking you through the stages I experienced after I quit my lawyer job and started grace + hudson. A lot of you have messaged me about wanting to quit your job and start your own business so I thought you'd like to hear about what it feels like on the other side. And yes, bouts of doubt and fear are completely normal.  
For those of you who are new here, I practiced law for about 11 years before I quit my career to start grace + hudson jewelry. I quit in February 2017 and launched the grace + hudson website in June 2017. I practiced at two different law firms during my career, and then took an in-house legal job (which means working as a lawyer for a corporation) at a large tech company. When I quit, I was 36 years old and I was the Head of Employment Law for North and South America. Quite a few different things pushed me to quit, which I've talked about many times before so I won't go into them again here. But I will reiterate that the number one thing that pushed me to finally quit was losing my father to cancer in 2014 when I was 34. It was at this point in my life that I realized that life is far too short. I wanted to live life differently. So, with that said, here we go...
The day I actually said "I quit"
Quitting sounds like an AMAZING thing when you don't like your job, right? You dream of the day that you'll be able to say those two magical words. I've quit 3 real jobs in my lifetime (not counting the little jobs I had before law school) and each time I found it to be very nerve-wracking. It's such a big leap! I think it's completely normal to be anxious so expect to have some sweat on your palms and a fast-beating heart. Once those words are out in the open though, WHEW. What a relief. The big secret you've been holding onto has finally gotten out into the air and it's such a weight off your shoulders. You'll have to tell your "why" to about 100 different people over the next two weeks as you explain your plans and next steps to your co-workers, finish up outstanding tasks and projects, and clean out your desk. And then it's finally time to say goodbye, hand in your employee ID badge, and drive away! The morning after your very last day of work is so incredibly freeing. Claiming your freedom and feeling it for the first time is how I'd sum up this stage of the process. 
The first few weeks post-quitting
These initial weeks are thrilling. You catch up on sleep, release all the tension and stress of your former job and the courage it took to finally quit, the adrenaline of your last two weeks of employment finally wears off, and you can take some time for self-care. Your final paycheck arrives about a week or two after you quit, so you don't have to worry about money quite yet. You still can't believe this is real life! You can finally breathe, calm down, and feel grounded again.
The thrill of being your own boss
A week or two after you quit, you try to establish a brand new work routine. You're the boss now! You'll experiment with things such as different places to work (home or coffee shop?) and different hours (start earlier, start later, or try to stick to 9 to 5?). Chances are, you already started to work on your business before you quit (and I highly advocate for that - in fact, I wrote more about that here). So now you're just going at it full-time and it feels absolutely amazing to have so much time to devote to your business idea. You also start to realize that a LOT of people do not have a 9 to 5 job because you'll run errands or go to a workout class in the middle of the day, and there are actually people there. Your mind starts to broaden and you realize there are more jobs out there apart from the traditional 9 to 5, and you start to meet people who have them. It's easy to feel motivated, energized, and excited about the future.
Doubts and job searching
About 2 months after you quit, it's common for the initial thrill to wear off. You're more accustomed to the new routine and you're probably working long hours. Some doubts about money start to creep in because it takes time to get your business into a regular state of cash flow, as well as patience and hard work. Things do not happen overnight (read more about that here), and you know this but it's still hard to accept at times. Hopefully you've saved up enough money to get through the initial period, but even if you have, it's very tempting to worry about paying your bills. Do not fret. You are shedding old ways of being! You used to have a job where you received a paycheck every two weeks like clockwork, and now you're transitioning into a new way of earning. You'll experience lots of transitions like these, and you'll let go of lots of old ways of being. Stay the course. Stay positive. This is normal. And - sorry to be the bearer of bad news - but this phase lasts a very long time - a year or two.
To cope, you'll probably search for jobs. At first, you'll search for jobs every few days. Then every few weeks. Then every few months. Slowly by surely, you'll gain confidence in your business and your business will grow, and you'll finally reach a point where there will be no looking back. In the meantime, you are building strength of character and becoming a more independent person. You are evolving and growing by leaps and bounds and, whether your business ultimately succeeds or not, you will take this growth into the next chapters of your life. You'll be a richer person because of it, no matter what happens! Let this motivate you more than the money (I wrote more about this here). 
Symbolic acts of separation from your old career
Once you have truly settled into this new way of being - it might be a year, two years, or maybe more - you truly start to embrace it. You start to take action based on your new business, not worrying about whether you have to go back to the old one.   
I remember the moment the tides really started to turn for me. I looked at my old "lawyer" clothes one day, about a year after I quit. I wanted to get rid of them but something inside me said, "Well, what if you have to go back to being a lawyer... then you're going to need all of these clothes again." I looked that thought right in the eye and said "NO." And I proceeded to fold and sort my lawyer clothes into donate and throw away piles. I felt so free throwing away the dark, stuffy wardrobe. I often felt like I was trying to look more like a man than a woman in my lawyer suits anyway. This act of turning over my clothes was symbolic. It's the first action I took that really said, "I am never going back to that career." It felt bold, it felt courageous, and it felt like I believed in myself and my business dreams wholeheartedly.
Another symbolic act that happened during this stage was retiring my legal license. Oh was this a wonderful moment! When you're a lawyer, it costs hundreds of dollars to renew your lawyer license every year. I renewed my license the first year after I quit, but then I got to a point where I felt this money was totally wasted. I no longer wanted to give away all of this money for something I didn't want anymore. I did a little research and I discovered that I could put my license into retirement, which means I still have my license but I don't have the ability to go to court or practice in a law firm or company. I'll always have the option to reactivate it (in other words, I'll never not be a lawyer, it's not something that can be taken away from me). Retiring my license sounds like it was the final nail in the coffin on this journey, but there was one more.
The final nail in the coffin
One day in 2019, I realized that I would never go back to being a lawyer because I was no longer a match for it. What does that mean? I wrote a whole journal entry on it which you can read by clicking here. Long story short, I equate it to that person you had a crush on many years ago who makes you cringe today. Why the drastic change in feelings? You've evolved! You're no longer a match for that person's energy. And the same is now true for me and the legal profession. We are no longer a match. I have evolved beyond it. I will no longer accept that type of work environment in my life. It's not acceptable to me and I won't stand for it. I have a new concept of career and new beliefs surrounding what a career should look like and feel like. I believe work should be an authentic reflection of who you are. I believe work should feel GOOD. I believe work shouldn't drain you of all your energy and pull all the light from your eyes. What do I always say? Your beliefs create your reality! And this journey has proven that ten times over.
If you're planning to quit someday soon or not-so-soon, I wish you courage, patience, and the strength to make the leap! 
xoxo,
Stacy
Stacy Mikulik