My Toolkit For Getting Through Difficult Times & Coping With Stress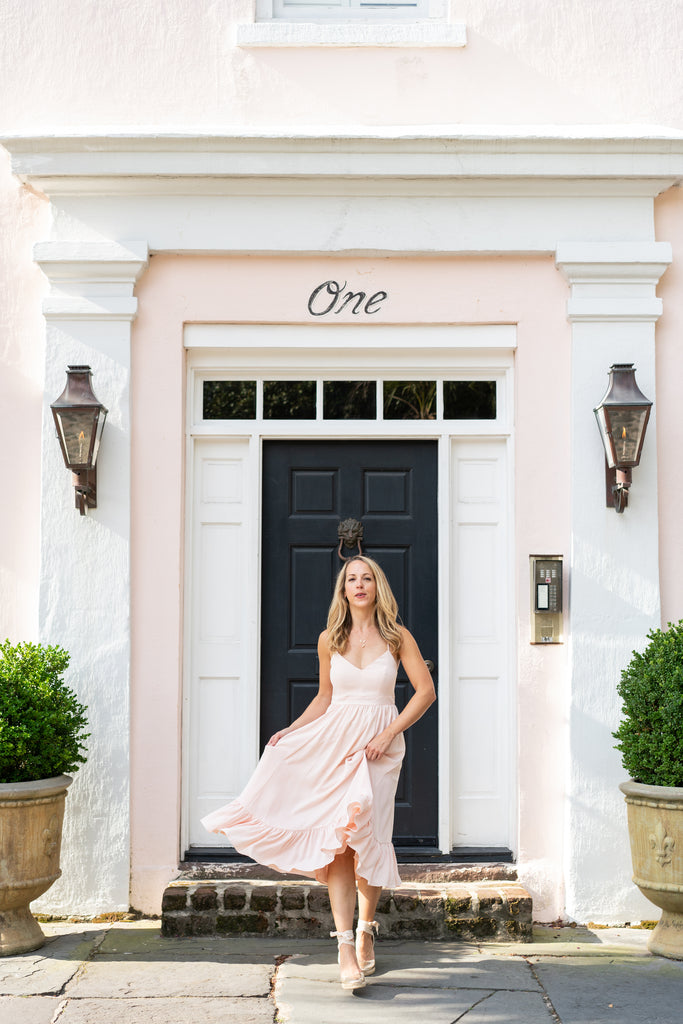 Welcome to another edition of my Weekly Journal! I use this space to share a bit about jewelry, and a lot about my journey from lawyer to jewelry business owner. Last week, I wrote about what it's like to be a small business owner during the coronavirus. I also promised to share the tools I'm relying on right now to make it through this crazy time. So in this week's journal entry, I'm going to do exactly that! The coronavirus is really testing my mindset and I think that's true for all of us. Are we going to constantly whine and moan about the virus, or are we going to accept the circumstances and allow them to teach us something about ourselves and perhaps guide us to make certain changes that will last after the coronavirus is over? I call the former "victim mindset" and I like to call the latter "thriving mindset" (i.e. you're not just surviving each day, you are thriving and growing through it all). Now don't get me wrong, this time period is TOUGH. It is completely normal to whine and complain about what's going on in the world right now and you shouldn't pretend everything is a-ok every minute this quarantine lasts. I think trouble starts to brew, though, when victim mentality is your default setting and dominant pattern on most days (*please note I'm not referring here to people with clinical depression or anxiety, which are serious conditions that should be cared for with the help of a medical professional).
Personally, my life started to change a lot in my mid- to late thirties when I realized that I have the choice to perceive things in a positive, valuable way or in a negative, critical way. I think that might be the most powerful choice we're given in this lifetime. And during difficult times especially, it's a daily choice, even a moment-by-moment choice, between victim and thriving mindset. In fact, it takes all of my courage and all of my energy on certain days to choose a thriving mindset, but I make it a top priority. You know, "I put on my big girl panties" and I do what I have to do. How? Well, as I've grown through my thirties, I've developed a "toolkit" for lack of a better word that I can turn to when I feel myself getting caught in victim mindset. These are tools I use and rely on to process negative feelings hiding behind the victim mindset, and turn them around so that I don't remain stuck in victimhood for very long. I thought I'd share them here, with the hopes that maybe you'll see a new idea on this list and try it out to see if it works for you. There's no time like the present, right?  
Tool 1: Set a daily mantra or affirmation in the morning
I meditate, journal, and read first thing when I get up on most days (about 5 to 6 days per week). Now before you say, "Who has time for that?!", let me be clear that sometimes all I have is 5 minutes to devote to this practice. But 5 minutes is enough to read a page or two from an inspirational book while I sip coffee, and then be still in meditation for one minute. I swear I notice a difference on the days I don't make time for this. It just sets a positive, calming tone for the day that I can come back to time and time again when I get off course. Right now when I have my coffee I am reading One Day My Soul Just Opened Up by Iyanla Vanzant. It's a 40-day book about growing and evolving - each day there are about 3 pages to read and then thought-provoking questions to consider throughout the day. I love books that are set up in this fashion because it's easy to stick with them - no matter what, I can make time for 3 pages per day. Another great book that's set up in this manner is Gabrielle Bernstein's May Cause Miracles.  
Tool 2: I load my day with positive podcasts and Audible books
When I walk the dog, go for a jog, or make jewelry in my studio, I am almost always listening to a podcast or Audible book with an inspirational message. I have an addiction to self-development books and podcasts you could say. I just think it's fascinating - the way the brain works, the way we all share very common wounds and patterns, and the way we can transcend them and grow to live a better life. I also must admit that mental illness runs in my family - there was bipolar disorder on my father's side of the family - so I am very cognizant of what I'm feeding my brain. It's my responsibility what I allow myself to ingest. And I will take interesting, empowering books over Netflix any day of the week. Some of my favorite podcasters and authors are: Marianne Williamson, Gabby Bernstein, Jen Sincero, Denise Duffield-Thomas, Marie Forleo, Eckhart Tolle, Lewis Howes' podcast called School of Greatness, Hay House's podcast You Can Heal Your Life, and any podcast by Brene Brown or Oprah Winfrey.
Tool 3: Exercise
I have to move every day, even if it's just for a 20 minute walk. It gets those endorphins flowing. Don't underestimate them! I once heard a therapist say that exercise is non-negotiable for someone who has mental illness in their family (that's me - see above). Exercising in the morning especially can help set the tone for the day in a positive direction. I love how I stand a little taller, breathe a little deeper, and feel better about myself after a workout. My workout routine these days consists of online workouts on barre3.com and long walks outside (usually anywhere between 2 and 6 miles depending on how I'm feeling).
Tool 4: Journaling
When I am feeling like a victim of the world around me, I journal. Journaling helps me discover the root of these negative feelings. Journaling freely about the emotions I'm feeling and the thoughts running through my head helps me process them and understand them. I don't know how it is for you, but for me, when I understand the cause of my negative feelings, it's a whole lot easier for me to move beyond them. There's no magic to journaling by the way - pick up a piece of paper, a notebook, or even open a document on your computer and just let the feelings come out in the form of words.
Tool 5: Epsom salt baths
Once or twice a week, I'll make myself chamomile tea, grab a book or a soothing playlist, and sit in an epsom salt bath for about 20 minutes. Besides calming my mind, it also draws harmful toxins out of the body. 
Tool 6: Cooking or baking 
Cooking and baking is so relaxing for me. It's almost like a meditation because I am focusing exclusively on the present moment (the measurements, what I'm cooking, how long the timer needs to be set for, etc). It draws me away from the negative circle of thoughts in my head and into the present moment. Maybe for you it's riding your bike, or planting in your garden, or even cleaning your home. But find that activity that allows you to tune out, and use it when you aren't feeling so great. It'll help get your mind off your troubles and into the present.
Tool 7: Make a good playlist
Music is medicine! Similar to tool number 6, making a playlist of my favorite songs gets me into the present moment. I tune out (no pun intended!) and I focus on the songs and how they flow together into the playlist. It's such a good activity for the brain! 
So there you have it, these are the tools I'm using most frequently right now to get through the stress and negativity of the coronavirus. When I feel myself slipping down into negativity, I'll try to turn to one of these tools. These tools are useful beyond the coronavirus by the way. Stress is present in our lives all the time, not just right now, and we need coping tools. If you're following this journal because you're interested in starting your own business one day, it's so important that you develop your own toolkit because the entrepreneurial journey is full of challenges, stress, and doubts. The journey can teach you SO much about yourself, but in order to get to the good stuff you need to have coping tools for the stress so that it doesn't overtake you, you know? Anyways, I hope you'll try one of these tools and see if it works for you, or better yet, make your own toolkit list and keep it on your desk so that you'll be reminded to turn to these tools when you feel yourself spiraling into negativity.
Be well and stay positive!
xoxo,
Stacy
Stacy Mikulik