5 Things I've Learned As I Celebrate 5 Years In Business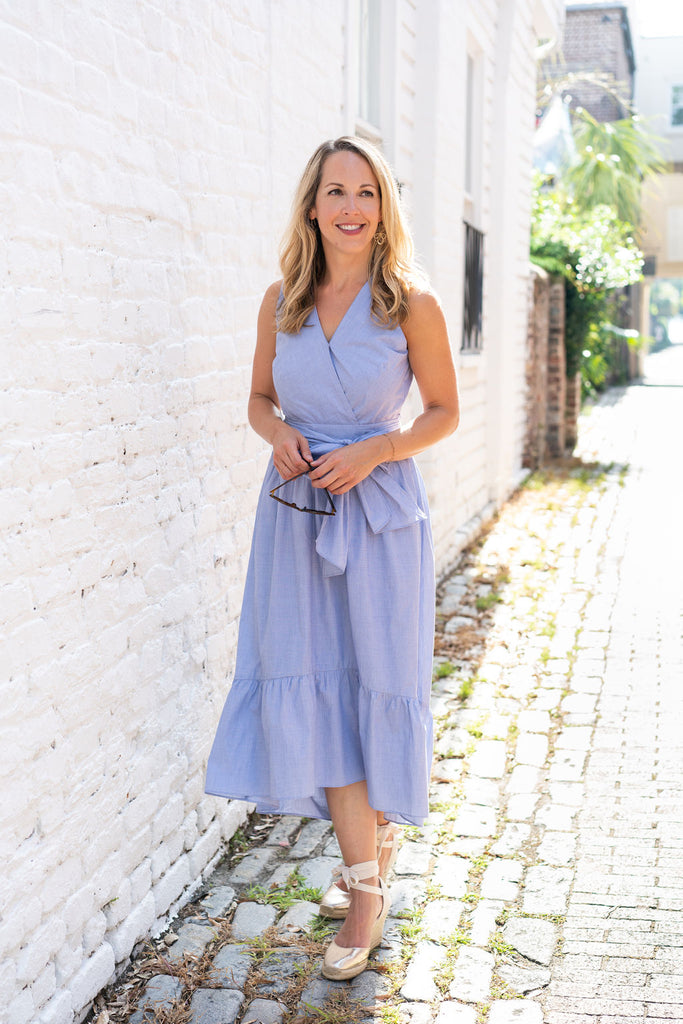 Welcome to another edition of my Weekly Journal! I use this space to share about my journey from lawyer to jewelry business owner. As I write this week's journal entry, grace + hudson is about to celebrate its 5th birthday. I opened the virtual doors to my grace + hudson e-commerce shop on June 14, 2017. Many new businesses never see the 5-year mark so I'm definitely experiencing some big, overwhelming feelings of gratitude and awe. Awe for just how much my life has changed in 5 short years. Gratitude that I get to show up every day to do something I love, in a space I adore, in a city that's the perfect match for me and my brand. I started grace + hudson in Chicago, with no plans to move to Charleston and no plans to ever open a brick + mortar shop. But the universe had some interesting things in store for me that I never could have planned! In tonight's journal I'm sharing the top 5 things I've learned in 5 years of business:
1. I had no idea how much personal growth work would be required to succeed.
When you start your own business, all sorts of stuff comes up for you. It's a challenging journey so that shouldn't have surprised me, but I was so focused on the nitty gritty details of things like my website, logo, and products that I totally neglected how much mindset work would be involved. Thankfully this came quickly to my attention and I've been a loyal student of mindset work ever since. The job is never done. It's like peeling back an onion. You master one area, and then lurking behind it is yet another. For example, you've probably heard of "imposture syndrome" and that's definitely come up for me at times. Imposture syndrome is having persistent feelings of self-doubt despite education, experience, and accomplishments... you know, the good ole "who am I to think I can succeed at this while everyone else toils and sweats in a 9-to-5 job?!" Feelings of lack (as opposed to abundance) and fears around money also came up BIG for me and required some real growth work. You see, if you believe you'll never make as much money selling jewelry as you did in your 9-to-5, that'll be true for you. But just the same, if you believe you can make just as much or even more selling jewelry, that'll be true for you too. It's amazing how much power our beliefs have on the experience of our reality. It truly is "all in our heads." Yet another thing that came up for me is control and perfectionism. Having practiced law for 11 years, it should come as no surprise that I'm a bit of a type A control freak at times, striving for perfection. Well, I had to learn how to let some of that go. I had to learn how to channel the good, positive side of that character trait into a more productive form. I had to let go of always having every single detail right every single time. Why? When you do that, you lose focus of the big picture. You spend time getting the margins and font on that email just right, instead of spending time on the important revenue-generating functions. There were countless other things I've learned and grown through - so many that I should probably write a book about them!
2. I understand the concept of "service" on a level I never understood before.
When you start a business always make service your top priority, not revenue. "How can I serve?" has taken me out of some whicked funks. Business ebbs and flows and, especially in the beginning, it's really easy to get tied up on that daily revenue number (and to freak out when it doesn't seem to be moving upwards). But the energy around that is complete lack, and it causes you to push and "hustle" in ways that never work. I learned early on that if I'm in a revenue slump, all I have to do is get back into the beautiful energy of "how can I serve?" and in no time, I see a turnaround. Why is that? I believe we are here on this earth to be truly helpful to others with the gifts we've been given, and it doesn't need to be fancy. You don't need to be volunteering in a homeless shelter to be of service. Sure, that's wonderful, but service is much, much broader than that. You merely have to extend your unique gifts to the world to be "of service." How can you help another? Maybe you are helping solve world hunger and that is your passion, or maybe it's much smaller than that. Maybe you are helping a bride desperate for a nice, classy gift for her bridesmaids that costs around $50 to show her appreciation for all the time, money, and effort they spent on her over the last few months. So, what problem can you solve? How can you be of service? How can you use what you were given to be useful in the world and provide a solution to someone else? Focus on service, not money, and you're much more likely to succeed in the long run. People can feel that.
3. Starting and building a new business is a marathon, not a sprint. In fact, it's a long, long, long marathon.
This one came as no surprise, but I wanted to mention it now that I'm rounding the bend on 5 years in business. A lot of online courses and teachers have popped up over the past few years and be very, very wary of the ones promising "quick ways to double your revenue" or "increase your social media following 10 times in 10 days." Nothing lasting and permanent is built that way. The people who succeed in business show up every day and make a little progress every day. I know that sounds simple but I know SO many business owners that started out around the same time as me but gave up years ago. They wanted instant results and, frankly, weren't willing to put in daily, consistent work for multiple years. "Sticking with it" has so much power and, I've learned, is something few people are willing to do.
4. When you create an authentic business, meaning one that is a true expression of your natural gifts and talents and experience, you will have few competitors.
I wrote about this one in detail last week so I won't expand on this a lot here. But when you create a business from your soul - you know, one that is a pure and true expression of your gifts, your talents, your personality, your experience, all wrapped up into one, you really distinguish yourself in the ever-increasing marketplace and have few direct, one-to-one competitors. For example, there are no other former lawyers designing dainty jewelry, specializing in weddings and writing weekly journals about career change and small business ownership every week. I'm the only one. And there's a business that each of YOU can create that is just as unique. Are you curious enough to find out what that is? It takes some digging and maybe even some coaching from a business coach, but it can be done. You can read more about this in last week's journal entry linked here.
5. Your friends will change when you make massive changes.
Maybe sad, maybe not, but the people in my circle right now are completely different than the ones that were present in my life 5 years ago. I attribute that to all the change I have gone through. I'm not the same person. And consequently, my friends have changed. This wasn't a terribly big surprise to me, but it might be to you. I can only think of maybe two lawyers I still keep in touch with, whereas five years ago almost all of my friends were lawyers like me. We're just on totally different paths now and share little in common. I find it's natural for people to want to spend time with people who can relate to them, and perhaps are experiencing similar things as them. So now I find myself surrounded by people with alternative careers like my boyfriend, or running their own business like the deli next door owned by a family from Massachusetts, or the wedding photographer who rents the office next to me, or the hair salon owner that set up shop in the space behind my store. These are my "co-workers" that I share daily chats with now. People come into our lives for a reason or a season, and if you accept that, this part will be a lot easier. And maybe you've already experienced this when, say, you got married and spent less time with your single friends or when you got pregnant and spent less time with your friends who don't yet have children. There will always be those few people that stick with you over a lifetime, but it's okay for the daily people we interact with to change every so often. It grows us.
I hope you're able to learn something valuable from my own experiences. My wish is for everyone to know the feeling of doing work that brings them joy. It truly is an unbelievable gift to not dread Mondays and hope for Friday's fast arrival. If you'd like my Weekly Journal sent straight to your inbox every week, click here to subscribe. 
P.S. Are you on Pinterest? I have a Weekly Journal board on Pinterest so you can easily navigate all of my journal entries. You can view and follow the board by clicking here. I've written so much about quitting my lawyer job to start g+h over the past couple years and I want to make it easier for you to access and read the entries that resonate most!

xoxo,
Stacy
Stacy Mikulik