The Truth About Work-Life Balance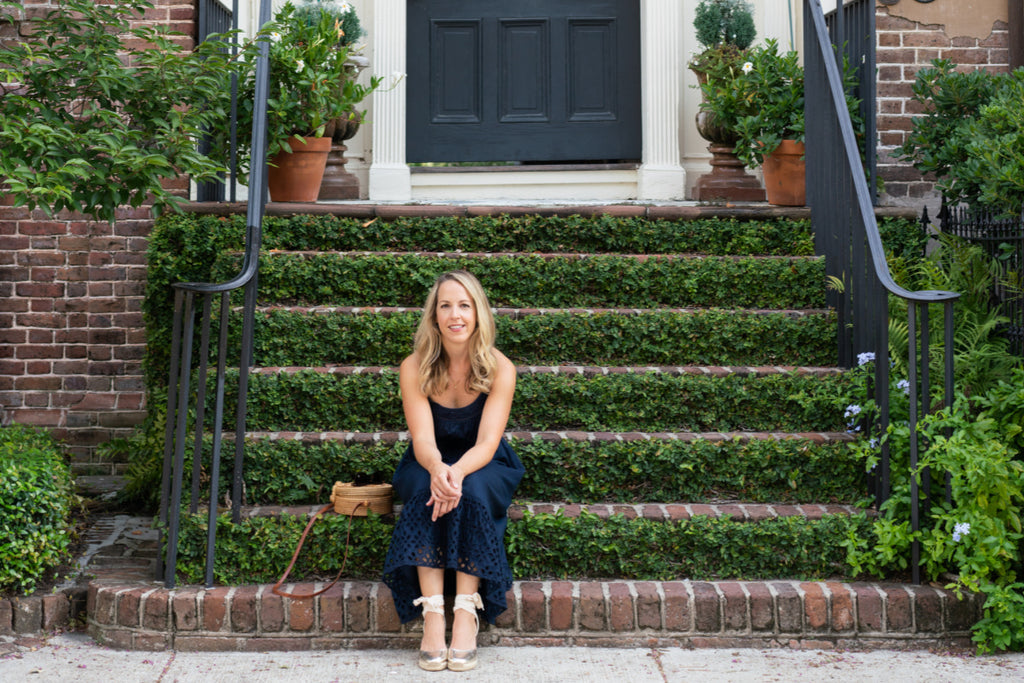 Welcome to another edition of my Weekly Journal! I use this space to share a bit about jewelry, and a lot about my journey from lawyer to jewelry business owner. In this week's journal entry, I want to talk about work-life balance. Someone asked me to address this topic and I thought it was a great idea. Starting your own business is no easy task and work-life balance is definitely a legitimate concern if you're thinking about becoming an entrepreneur.
Before I started grace + hudson I was a lawyer and I worked some pretty crazy hours, especially when I was a young attorney. There were many nights spent working until midnight or beyond. I ate dinner at the office more than I ate dinner at home, and I often gave up much of my weekend to work. One of the main reasons I hated my job as a lawyer was that my employer owned me - my time was not my own. I was constantly forced to cancel plans with family and friends and I missed out on some pretty big events, including a friend's wedding. I say all of this to illustrate the reason why running my own business has felt a lot more balanced and a lot easier, even though it's required a lot of hard work. And that's because I am always in control of my own time and I never have to miss out on things that are important to me. I work a ton of hours as you might imagine, but I can be flexible with when and where I work. So, for me personally, I've found that achieving work-life balance is more about flexibility than it is about working significantly less hours per week. For ambitious types like myself, I love what I do and I don't mind spending a lot of time doing it. It's fulfilling and really fun! But I don't want my work to cause me to miss out on important moments with my family and friends and the flexibility I have now ensures that. Perhaps one of the positive things that'll come from the coronavirus and quarantine will be more employers allowing their employees to work from home and work flexible hours. Work-life balance will become a lot more attainable for a lot more people if that's the case.
The second thing I've learned about work-life balance is that, for me, it was more about being in alignment with my gifts and talents than it was about actual hours worked. What does that mean? Well, as soon as I started working in a field that felt really aligned with my God-given talents (jewelry making) and personality (creative, peaceful, light-hearted), I started to feel more balanced. A lot more balanced. Even when I was working long hours, I never felt drained, exhausted, and stressed out the way I did when I was a lawyer. Strangely enough, I felt like I had even more energy because I was so inspired and satisfied from the work I was doing. It lit me up! It literally put a sparkle in my eye, and if you've experienced that feeling before, you know it's an energizing feeling. Think about it - when you're doing something you truly enjoy, the hours fly by and you usually have positive mood-boosting endorphins running through your system. When you get home, you have energy to spend on your children, your spouse, and other chores and activities. You don't just collapse on the couch and snap at your family members because your day was so draining, right? This can lead to a greater work-life balance because you actually have energy left at the end of the day to spend quality time with family and friends and enjoy the things you want to enjoy.
So I would sum up my views on work-life balance like this. First, for me, I've found that flexibility is more important than working less hours. The ability to work when and where I want is incredibly freeing. I think most people want to work and actually have the drive to work hard, they just want to be given a little latitude to get their work done when and where they want so that they don't miss out on the things outside of work that build a well-rounded life (like attending a birthday dinner for a close friend, reading a book to your children before sleep, helping out a family member, or even going to a favorite workout class). Second, work-life balance is a lot easier to achieve when you're working in a field that is in alignment with who you are. When that's the case, your job will not deplete you of all your energy. Rather, you'll feel pretty balanced (not too tired and not too frantic) or your job will actually energize you and light you up, and you'll have energy after the workday to spend on your friends, spouse, family, and activities you enjoy thereby increasing your work-life balance. 
One last word on work-life balance in the context of entrepreneurship. Running your own business requires a lot of work. There are a lot of people out there who claim to run a business working only 3 or 4 hours or day for example. I'm sure you've come across them. I'm not sure of their personal circumstances, but if you're thinking of starting your own business, I caution you to not have this expectation. I'm at the beginning of my 4th year and I'm just starting to slow down and keep more of a regular work week (usually between 40 and 50 hours per week). In the beginning, my hours were much longer than that. I worked every day (weekends included) and often worked 10 to 12 hours per day. Maybe my living expenses are just a lot higher than the people making these claims of 3-4 hours per day. Everything is relative, right? A "successful" business to them may be one that generates $20,000 per year whereas my business would need to generate much more than that to cover my living expenses. But whatever the case, please do not go into business ownership thinking that you're only going to work a minimal amount of hours. It's just not the case. It requires a lot of hard work over a long period of time, and it's not easy. If it were that easy, I assure you that many more people would open their own business and...even more importantly...more would succeed and grow. The fact of the matter is a lot of new businesses fail because it's simply not that easy. Do I think you need to sell your soul and work 90 hours/week? Absolutely not! But it does take a lot of dedication, especially in the first few years.
If work-life balance is something you're seeking, I hope you found this journal entry insightful! 
xoxo,
Stacy 
Stacy Mikulik