The Resources That Helped Me The Most When I Started My Business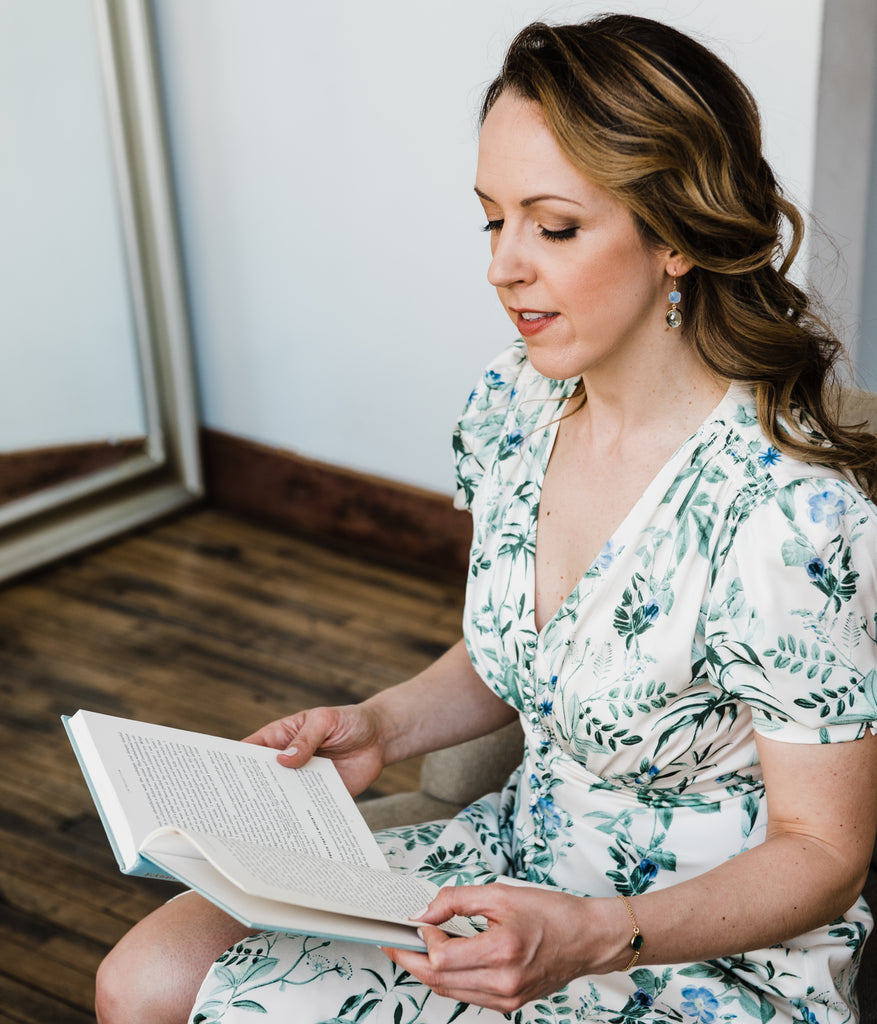 Welcome to another edition of my Weekly Journal! I use this space to share a bit about jewelry, and a lot about my journey from lawyer to jewelry business owner. Over the past two years, I've had a lot of aspiring business owners ask me what resources I found helpful in launching my business. You know, things like courses, books, and podcasts. In my opinion, taking a few select online courses are the single best thing you could do before you launch your business, and refusing to shell out a few hundred dollars to learn from others is the most costly mistake you could make. You don't need to recreate the wheel! Invest in some online courses and learn from people who've already made the mistakes, who've already tested all the methods, and who've already succeeded using the tools they'll teach you. Online education is incredibly affordable these days, and there are usually a ton of free webinars out there too. If you insist on doing everything yourself, you're going to waste many, many months and your business will fail before it even gets off the ground. Time is money, and this is especially true in the start-up phase of a business. 
Let me give you an example to back-up what I'm saying here. Let's say you're starting a wedding-related business. Almost every bride turns to Pinterest to plan her wedding. Therefore, Pinterest marketing is going to be important to your success. Now, if you could pay a Pinterest expert $250 to teach you (via an online course) everything they know about Pinterest marketing, wouldn't you? If you try to recreate the wheel and learn Pinterest marketing all on your own, you are going to waste at least 6 to 12 months making all the (costly) errors that this Pinterest expert could have saved you from. Perhaps you saved up only 6 to 12 months' worth of savings to live on - which means your business is doomed before it even gets off the ground. Trust me, paying $250 for a 6-week comprehensive course is one of the best investments you can make in the long-term.
Someday I'll try to make a list of all the valuable webinars, courses, books and podcasts I've encountered during my business journey, but for now I can tell you the top 3 that helped shape my business:
1. Marie Forleo's B-School Course
Hands down, this course was the most important step on my journey. The jewelry business I was planning to start before this course and after this course looked completely different. Marie is a powerful female personality in the online business space - she has a best-selling book and she's been on Oprah as a modern day thought leader. While the course is not cheap (it was about $2000 or so) it is worth every single penny and I highly recommend you save up for it. In addition to offering extremely practical advice on how to start a business, Marie also teaches how to create a business with soul - one that aligns with your values, purpose, and dreams. This course is also great for helping you to develop not just a business but a brand. Brand is so important in an over-saturated online marketplace. The course is about 12 weeks long if I remember correctly, and there is a lot of homework (do it all!). Marie also offers a lot of free resources online. You can see what she's about at https://www.marieforleo.com/
2. Brilliant Business Moms Pinterest Marketing Course and Facebook Ads Intensive Course
If no one knows about your business, no one can buy from your business. So if you don't like marketing, you might want to reconsider opening your own business! If you invest in just one course, make it an online marketing course. I am not a mom but I took a few free online marketing webinars from Beth Anne, the owner of Brilliant Business Moms, and I found her very compelling. She's built a hugely successful online business selling yearly planners, and then started teaching others how to sell online using marketing tools like Facebook, Pinterest, and email lists. I took her online Pinterest course and it was about $200 if I remember correctly. It had at least 20 different modules (with videos, homework, and case studies). It was so detailed I barely could finish it! I found it so valuable that I took her Facebook Advertising Intensive course too, which teaches advanced advertising on Facebook and Instagram. This course was about $400, but you will absolutely make that money back in sales. The reason I like Beth Anne so much is that she shows you her own Pinterest and Facebook analytics - she is so transparent about how her tools have worked (or not worked) and shows you the data to back it up. She's very credible and also very relatable. She's kind of just this mom from Pennsylvania who's figured out how to build a hugely successful online business - and she made me believe that I can too. Here's her website: https://brilliantbusinessmoms.com/
3. Gabrielle Bernstein's May Cause Miracles (a 40-day guidebook) 
While this isn't practical business advice or data-driven coursework, this book literally changed the game for me. The courses I listed above were the practical knowledge I needed to start grace + hudson, but Gabrielle Bernstein's 40-day practice in May Cause Miracles was the mindset shift I needed to be successful. You can have all the practical knowledge in the world, but if your mindset isn't right, you are going to have a hard time finding success. Through this audiobook, I developed a habit of eliminating self-defeating thoughts. Let me tell you something - if you start a business, you are going to be inundated with doubts and fearful thoughts on a daily basis, the most benign of which will be, "Everyone is going to their 9-to-5 office job - am I absolutely crazy to be trying a different route?!" and "There's no way that I am going to make enough money to live off of this business." Facing self-doubt and the doubts of your family and friends is probably the most challenging part of starting your own business. It will make you want to give up. If you aren't prepared for this, you will crack under this mental pressure. This is what happened to me in my first business in 2010 - I had it for just one year before I closed the doors and I can honestly say that self-doubt (which was fed by the doubts of others) is the reason why it failed. The major difference between now and then is my mindset. I highly recommend you buy this as an audiobook. I listened to each day of the 40-day course while I brushed my teeth and washed my face in the morning, then I replayed it later in the day if I needed to. I think it's a lot easier to keep up with the 40 days if you have it on Audible, as opposed to a paper copy. You can find it here: https://www.amazon.com/May-Cause-Miracles-Guidebook-Unlimited/dp/B00A2ZJ65I/ref=tmm_aud_swatch_0?_encoding=UTF8&qid=&sr=
While these were my top 3 most influential courses, yours might look different! We all bring different strengths and weaknesses to the table. But regardless, if you're a business owner, you're going to need to resolve problems and come up with creative solutions every single day. Don't do it alone. You'll find amazing resources on the Internet with just a click in Google. Nearly all online courses that cost money will offer a free webinar - try those out! You'll learn a few things plus you can "try out" the teacher before you invest any money. See if you like his or her teaching style and, most importantly, see if you find him or her credible. You might get overwhelmed with all the online resources at first, but remember this: it is an incredible time to start a business! It wasn't always this way! I can't even imagine how difficult it must have been to start a business in the pre-Internet era. 
Continue to educate yourself after you've started your business, too. The business world is rapidly changing, especially in the online advertising space. It is so incredibly important to learn, educate yourself, and do online research when you encounter a problem in your business. It'll save you so much time (and money).
Last but not least, if you don't invest in yourself and in your business, how can you reasonably expect others to? It's an important thing to keep in mind.
xo,
Stacy
Stacy Mikulik