My Favorite Jewelry Brands, Volume 1: Melanie Auld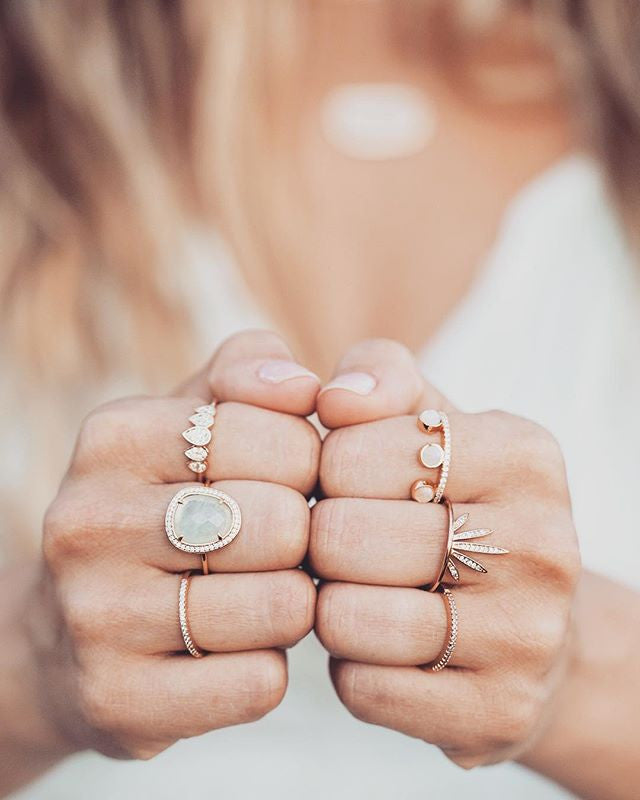 Photo Credit: melanieauld.com
When I launched this jewelry blog back in June, one of the things I promised to do is share my favorite jewelry brands. Believe it or not, I don't always wear gold + dainty (insert winking smiley face). Just like you, I have a collection of jewelry that ranges from dainty pieces to statement pieces, and everything in between. I just happen to love designing and making dainty jewelry. There's something extra special about designing a piece that seems simple, yet can be worn every single day and on so many different occasions. Anyways, enough about me. Let's talk about Melanie Auld, the first jewelry brand that I just had to introduce you to. While Melanie makes a full collection of jewelry, her rings definitely take center stage. They are literally the most beautiful things I've ever seen, begging to be layered and stacked.
Photo Credit: melanieauld.com
Melanie is based in Canada, and her pieces can be found online at melanieauld.com as well as in Anthropologie and Nordstrom stores. She works primarily with 14k gold-plated brass. You'll find many pieces in the $100 range, so you can certainly treat yourself. P.S. -- that's going to be a running theme on this jewelry blog - I believe in jewelry you can #treatyoself to, the more the merrier. While I have two or three fine jewelry pieces from special occasions, I'm an everyday girl -- if I had to wait until a birthday or holiday to add new jewelry to my collection, I'd just cry! 
Photo Credit: melanieauld.com
Melanie's also collaborated with Jillian Harris (that's right, the former Bachelorette) on a small collection, many with heart detailing. I love Jillian's home decorating style, and her taste in jewelry is just as beautiful (have you caught her on HGTV's Love it or List it?) You can find the collection here.

Photo Credit: melanieauld.com
Like what you see? Melanie is having her end of summer sale! You can click here to shop styles at up to 50% off. Seriously! I just bought this ring for $55, what a steal.  
A friendly little note: this post is not sponsored or an advertisement. I just introduce you to brands I love, that reflect my personal sense of style, and that I believe in!
Happy shopping + expanding your jewelry collection, xoxo!
Stacy Mikulik