How I'm Feeling About Owning My First Storefront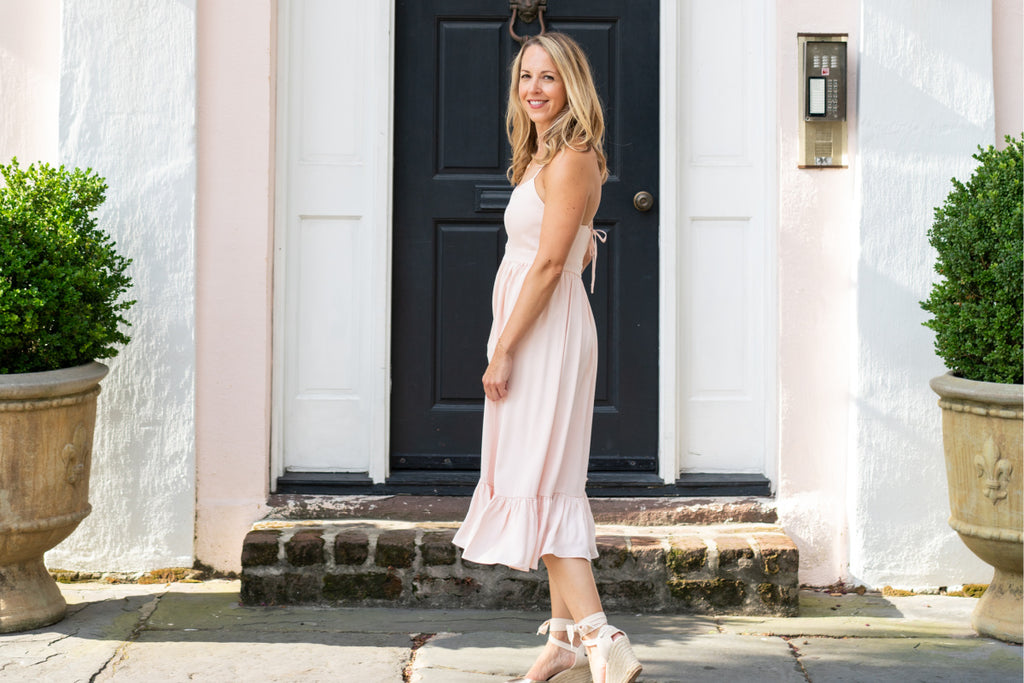 Welcome to another edition of my Weekly Journal! I use this space to share a bit about jewelry, and a lot about my journey from lawyer to jewelry business owner. In this week's journal entry, I want to share what it's felt like to own my first storefront. I started grace + hudson as an online business about 3 years ago and I expanded by opening my first storefront about 2 months ago in Charleston. Last week, someone asked me whether I like owning a shop so I thought I'd share my response here. 
Do I like owning my own shop? Yes! First and foremost, I've really enjoyed connecting with some of you in person. Social media is wonderful but there's something extra special about meeting you in person, helping you select jewelry, and watching your face light up when you find the perfect piece. This happened just yesterday. I had an adorable mother and daughter in my shop, and the daughter's face lit up when she put on one of my heart necklaces. She asked her mom if she could get it and, after her mother said yes, she wore it as she left the shop. I live for that! It gives me so much joy. Many of you have asked if you can wear the jewelry now, as you leave the shop, and my heart melts every single time.
The other thing I love about having the shop is helping brides select their wedding jewelry in person. I help many of you virtually, over email and Instagram, but helping you pick out jewelry in person is something special! I love looking at your wedding dresses, asking about your wedding venues, and watching you try on your favorite pieces. Once you find the perfect pieces, it gives me so much joy to know I'll be a part of your wedding day in this small way.
The jewelry store has also given me a beautiful, inspiring place to work everyday. I feel more creative in my shop and I'm excited to work there. The energy in my space is so good! I can't explain it. It kind of feels like home. Before I had the store, I was working out of a home office that was bursting at the seams. Yep that's right, I ran g+h out of my home for almost 3 years! I was so ready for g+h to have a space of its own. It has made my business feel more legitimate too. In addition to the retail space, my shop has a room for packaging up online orders and an office. Rather than packing up orders on my kitchen table, I have a dedicated counter where everything is organized and nicely set up. It helps me be more productive, too.
Having my own storefront, ironically, also seems to have grown my online business. Maybe grace + hudson seems more legitimate to potential customers because I have a storefront. There's so many people selling online these days and, sometimes when you buy from someone new, you don't know what you're going to get and you might be a little hesitant to hit "buy." Having a storefront seems to have taken away those purchase fears. At the very least, g+h is legitimate enough to at least have a storefront in downtown Charleston so chances are, when the jewelry shows up, it's actually going to look like the pictures on the website!
The other really great thing about having a storefront is the people I've met. It can be lonely, being an entrepreneur. But now I have neighbors - a hair salon owned by a woman from New York, a deli owned by a family from Massachusetts, a wedding photographer from New York and another from South Carolina, and also the residents who live above my shop. We have such a fun little corner, and we'll often chat outside with a drink after we close for the day. I can't wait to meet more business owners throughout Charleston. It's such a fun community to be part of. I don't really have co-workers, but I have business owner neighbors and friends and that's a pretty fun thing.
So far, the only downside about owning my shop is the coronavirus. I signed my lease at the end of February, just a couple of weeks before the coronavirus drama all began. Thankfully, I was able to open my doors to the public in mid-May and I've been open ever since. But of course I have the fear that we'll face another quarantine. I have to pay rent for the store whether or not I have customers, so I pray that I'll be able to keep my doors open so that I'll be able to pay my bills. It's scary, you know? Every week I hear about another shop or another restaurant in Charleston permanently closing their doors. In all honesty, I'm not quite sure how I've survived, especially since my business is so young - it's only 3 years old. I can guess that it has something to do with my work ethic and my drive to succeed. This is my dream come to life and I am going to do everything I can to keep it alive during this trying time. One thing's for sure - after making it through this, I know I can make it through anything and everything.
If you're in the Charleston area or visiting soon, come in for a visit! The store is located in the historic district at 87 Wentworth Street (one block west of Vineyard Vines on King Street). I'd love to meet you!
xoxo,
Stacy        
Stacy Mikulik